Lift Off Round Knuckle 4" x 4" Brass Hinge
The Lift Off Round Knuckle Hinges combine the fine qualities that are built into all merit hinges with a unique two-knuckle design. They are manufactured with stainless steel pins that are permanently secured to the bottom leaf of the hinge. The contemporary design of the lift off hinge does not require finial tips. The top and bottom of the hinge knuckle are highly polished. Decorative finials are available on a special order at an additional charge. These lift off hinges are designed for low frequency door applications and conform to the most current specifications established by the American National Standards Institute (ANSI). Other sizes of this hinge available upon request.  The Lift Off Round Knuckle Hinges are sold in pairs and come with #12 slot head screws. *PLEASE specify if you would like Right Hand or Left Hand when ordering.
DIMENSIONS
4" x 4"
*Made-to-Order:  Please allow for 8-10 week lead time for delivery.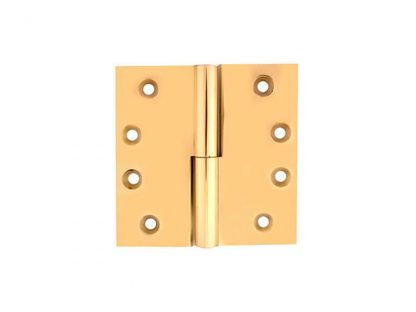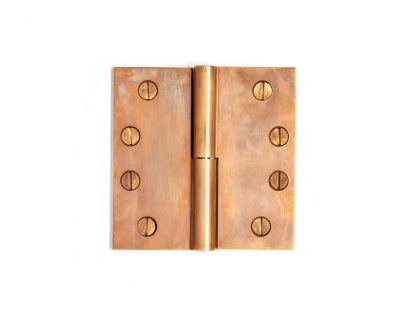 Variations
Price
Size Options:
Finish Options:

$

184.00
Right Handed
Old English

$

184.00
Right Handed
Burnished Nickel

$

184.00
Right Handed
Burnished Brass

$

148.00
Right Handed
Satin Nickel

$

184.00
Right Handed
Antique Satin Nickel

$

148.00
Right Handed
Satin Brass

$

184.00
Right Handed
Aged Burnished Brass

$

148.00
Right Handed
Polished Unlacquered Brass

$

148.00
Right Handed
Polished Nickel

$

148.00
Right Handed
Polished Chrome

$

184.00
Left Handed
Old English

$

184.00
Left Handed
Burnished Nickel

$

184.00
Left Handed
Burnished Brass

$

184.00
Left Handed
Aged Burnished Brass

$

184.00
Left Handed
Antique Satin Nickel

$

148.00
Left Handed
Satin Nickel

$

148.00
Left Handed
Satin Brass

$

148.00
Left Handed
Polished Unlacquered Brass

$

148.00
Left Handed
Polished Nickel

$

148.00
Left Handed
Polished Chrome