Eco-friendly. Family-run. Award-winning. All too often these claims amount to mere marketing terms without much supporting evidence. But on the flip side, there are honest-to-goodness businesses that can back up all the above without exaggerating. One shining example is Sun Valley Bronze, known familiarly in design circles as simply SVB.
As one might gather from its name, SVB champions the ancient alloy of bronze from a picturesque post in the Sun Valley region of Idaho — a destination arguably known best for alpine skiing. Founded in 1992 by master craftsman Robert Commons, the company has evolved from a one-man operation into a boutique manufacturer offering a comprehensive line of decorative bronze door, window, kitchen and bath hardware along with plumbing, lighting and accessories. Encompassing a wide range of styles — from rustic and traditional to contemporary and minimal — SVB hardware is something of a gold standard in the realm of architectural hardware. Created from art-quality bronze, it boasts unparalleled quality, functionality and lifespan.
Nearly three decades into the game, founder/owner Robert Commons still works in the machine shop while his wife Debbie runs the business. Their children Josh and Aimee serve as lead design engineer and creative director, respectively. Working together as a family, they've managed to grow SVB responsibly while making sustainability an utmost priority. In addition to working exclusively with pre-consumer bronze and green sand technology, SVB recycles its scrap metal and follows Lean manufacturing principles — a super-efficient production model that results in zero waste.
Rightfully, these efforts have not gone unnoticed. In 2018, SVB was named a Pollution Prevention Champion by the Idaho Department of Environmental Quality for demonstrating "tremendous leadership in reducing its environmental footprint."
In hopes of learning more about the inner workings of one of Alexander Marchant's favorite brands, we caught up with Aimee Commons, whose role as SVB's creative director involves everything from brand identity to photography and design.
What can you tell us about the formation of Sun Valley Bronze and how the company has evolved?
It's been steady, and very organic. We've just grown over the years — increasing in square footage and adding tools, improving technology and promoting innovation. It's a family business my father started. He's a really talented craftsman. He started out hand-carving these beautiful designs — just kind of doing it by feel — and that's how a lot of our original designs came about. Then it really started to take on a life of its own. … We got really into innovation and the technical aspects of the products. That's been a huge focus for us. We put a ton of time into testing the hardware and improving the functionality. My brother Josh is our lead design engineer, so he's really focused on making the hardware work well and ensuring its lifetime. These are not products you replace — and that's a big part of our sustainability. We add new designs organically based on jobs. We'll fill voids in our collection based on what's needed for a job, sometimes we'll develop a whole new line, it kind of depends. A lot of it is client-driven.
So the design process is happening in-house as well?
It's all happening in-house and it happens in a bunch of different ways. Sometimes a concept will come to us from a client and we'll help design and engineer it — or the concept is coming from an architect and they're trying to carry a specific look through their project. Sometimes we will do an actual collaboration with an architecture firm or designer. We're doing that with several different architects right now. … And then sometimes we design new products completely in-house, when we want to try something or we have a concept and we'll design a single product or a whole collection — maybe it's cabinet hardware or a line of door hardware or lighting.
Which architects has Sun Valley Bronze worked with on those types of projects?
We created The Lift Series with CLB Architects, which is more of a contemporary style of hardware. CLB is a great firm based in Jackson, Wyoming and Bozeman, Montana. And we've also worked with de Reus Architects, which is based in Hawaii and Sun Valley, Idaho. Mark de Reus has an eye for Hawaiian, island-style architecture. We created a collection with him called the Kyoto Collection that's pretty unique.
The bronze production process can be difficult to wrap one's head around. Are you able to break it down into terms almost anyone would understand?
It all starts with the design process. Designs can either be made by hand or machine. We have a 3D printing lab where we can prototype samples from a CAD model. We also build patterns on CNC machines. Our tech is pretty sophisticated for development. It's kind of mesmerizing actually because you see this pattern come to life in the machine. After the approval process, we'll create something called a match plate, which allows us to take a single product and replicate it over and over again. That two-sided match plate gets pressed into a sand mold. Then the match plate is removed and leaves a void in the sand — and that's what we pour the bronze into. We heat the bronze up to about 2,200 degrees. Once the bronze has cooled, we break it out of the sand, and it goes to cutoff, grinding, and then the machine shop — which is another super-high-tech part of the process. And then it goes to our finishing shop, then assembly and then it's sent out.
The sand mold, is that where the green sand comes into play? And does Sun Valley Bronze always work with that?
Always. And we have a lot of special practices around that process. Back in the day, sand used to be oil-based — it was really unhealthy and not good for the environment. We use a green sand, which is water-based. We have systems where we can recondition the sand, so it gets used over and over again. Any moisture that's in it gets collected and filtered and reused. Our whole casting process is extremely green — especially for this kind of manufacturing.
And you also reuse scrap metal, correct?
We source high-quality art-grade bronze that is 85% pre-consumer bronze — so the majority of the alloy is recycled. Once it goes into our system, the sprues, or channels, that connect all the parts during the casting process get cut off and remelted. And as it goes through the process in machining, little shavings come off and all of that's collected and recycled. So, every single bit of cutoff is recycled. It comes recycled, and then it's recycled afterwards — so there's no waste at all.
There's a strong sense of continuity within the Sun Valley Bronze look. What can you tell us about maintaining brand identity?
The casting informs the design because it has certain limitations and qualities — and it definitely has a certain character. Then our finishes, the quality of our metal, the surface texture and the honest, natural look of it applies to everything. Anything that is Sun Valley Bronze has that same look — the same finishes or same texture. I think that's definitely the connection between all these different designs. But we have a range of styles — we have designs that are really traditional, designs that are more rustic, and some that are very contemporary and minimal. We have this minimalist hardware that we've been selling a ton of and it has the tiniest escutcheon, where it almost looks like the knob or lever connects directly to the door. This look is really popular right now. And then we have some more eclectic, transitional collections. The hardware range encompasses all design styles. But it's definitely connected by quality, texture and finish.
You mentioned that there are certain limitations with bronze casting. Are we talking about intricate embellishments and tiny little parts?
We can make tiny parts. It's just that casting has an organic, natural feel. So it's not that highly machined, super-tiny detail type of a product. We have the capability to do that, it's just not really our look. The metal actually gets this gentle pitting in it and every piece is slightly different because of that. Our casting is really good, so you don't get a ton of it, but it still has a little bit of natural character.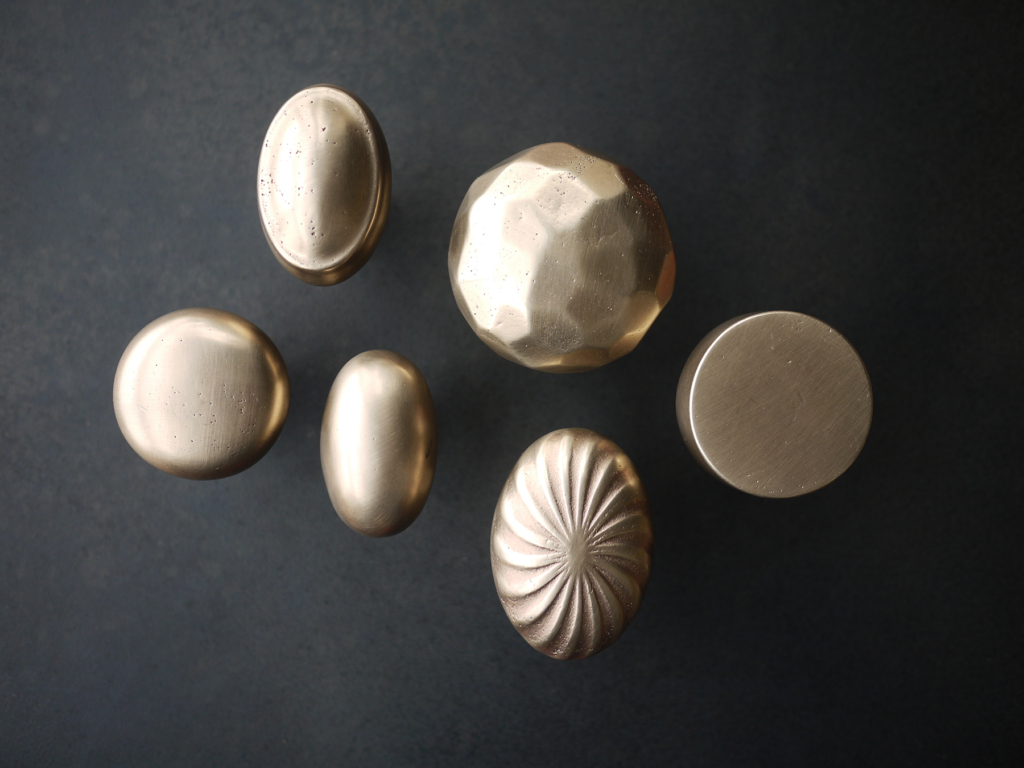 Is it fair to describe Sun Valley Bronze as a boutique manufacturer?
We really are a family business, and a bunch of artists and makers. We're not trying to be everything to everybody. We're focused on making a super high-quality product. And we haven't had a goal of being enormous. We're committed to growing at a sustainable rate and making a luxury brand. So yeah, I would say that's intentional.
Do you see a common thread between the people who choose Sun Valley Bronze hardware for their homes or businesses?
We work on hospitality projects and island projects and city apartments and ranches all over the world. I think the people that are buying our hardware are looking for quality, timeless design and products that are going to last. Sun Valley Bronze hardware is serviceable and field reversible. The functionality makes it super high-quality, so if anything ever does happen, we can send you parts — the hardware doesn't have to be sent back.