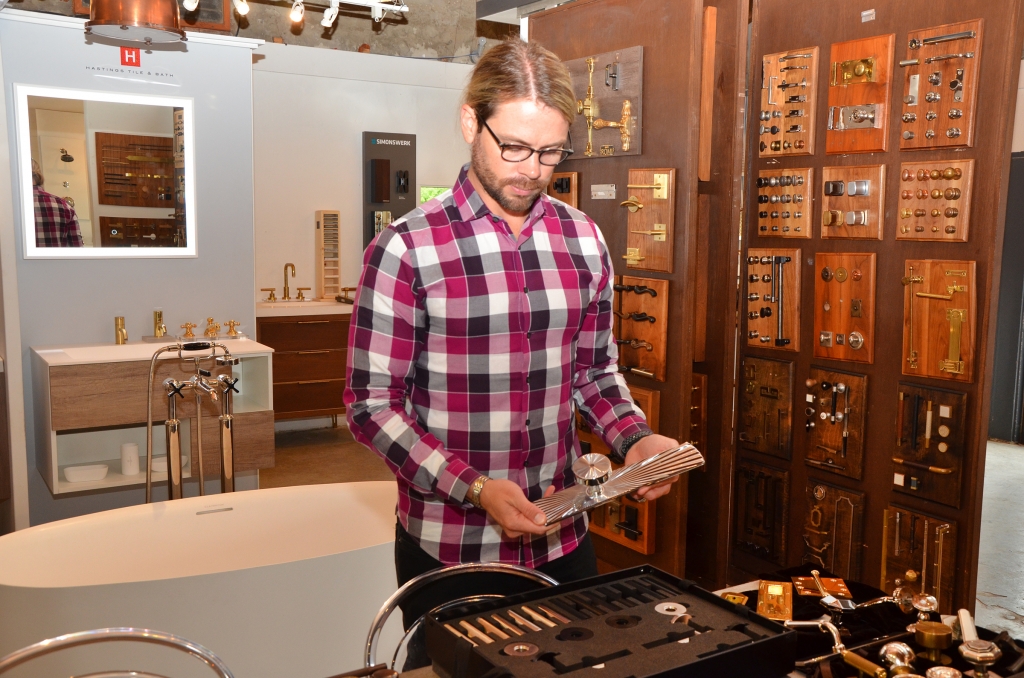 Established in 1914 in Birmingham, England, Frank Allart (an Alexander Marchant exclusive in Central Texas) boasts a rich history that includes manufacturing brass fittings for the architectural, marine and railway trades — and even aircraft during WWII. In the 1950s, the company emerged as an innovative force in architectural hardware and is now known worldwide for its comprehensive selection of residential fittings available in 40 metal finishes and patinas. We recently caught up with Michael Risser, President of Frank Allart North America, to quiz him about the importance of top-quality window hardware, trending finishes, and Allart Precision — a versatile range of door, cabinet and window hardware with seemingly infinite mix-and-match possibilities.
What would you say separates Frank Allart from its competitors?
Frank Allart has been in the business since the early 1900s and was the creator of a lot of pieces used for everyday hardware. We're a solutions manufacturer — meaning that we have pieces that fit all different variations and needs in the house instead of just door hardware. We do window hardware, cabinet hardware, door hardware, and everything is suited to work together. With the window hardware, we have many more options than a lot of our competitors — for different styles: bottom-hung windows, side-hung windows, top-hung windows, transom windows. Whereas some of the other manufacturers have casement only or multipoint only. So it pretty much fits whatever you need. I had a client call me the other day and say, "Hey, I have this slanted sill and they want it to extend out 90 degrees and I looked everywhere and can't find anything." And we had the solution for that. Just one of our standard items could do what she needed. And that's kind of where we fit in: We have a lot of range. And in each piece in that range, they fit a lot of different needs.
Why should someone maybe invest in specialty window hardware?
So everything we have is top-quality brass or bronze. It's made to last the longevity of the house. So as long as the house is around, this hardware has been made to last as long as the house. And this has been proven — especially in Europe and England. We've had several times when people return hardware to us after it's been there 70 or 80 years as they're remodeling the house. So our hardware isn't run-of-the-mill. A lot of companies nowadays are [manufacturing] in Mexico or India or China. They use an alloy that's not very well-made [and] the product's not made to last the longevity of the house. That's one big reason. There's a lot of different things that you don't even realize are more complicated with window or door hardware. With us, you will have the cleanliness and the smoothness of turning a knob or a lever for instance, the addition of something like spring assistance that will help the lever stay up at 90 degrees through decades — instead of sloppy, sagging levers. On top of that, we're very proud of our product overall and the factory does very well at backing it up. So if there are any issues that arrive — short-term, long-term — they stand by and guarantee the product.
What can you tell me about the new collection?
So the Precision collection has a range of eight different textures. Textures can be switched out on window hardware, door hardware and cabinet hardware; and the textures are plain, square mesh, diamond mesh, diamond knurl, spiral, rotor, groove, and linear. You can switch [the textures] out on the levers — there are three different diameters of levers — and there are eight different rosette options. So really the sky is the limit. You also have six different backplate options, so you're able to mix and match. When you [consider] the addition of 40 different finishes — you literally have hundreds of thousands of different combinations. And it's all standard. So you can mix and match finishes for instance. Like, "Hey I want this rotor grip but I want it in rose gold. And then I want the actual lever in polished brass or ebony bronze." So the line has a lot of versatility. But it's also contemporary without going too far contemporary. It has a nice, traditional contemporary look to it. 
What are some of the standout finishes at the moment?
Polished black nickel, matte black nickel, and black chrome are very popular finishes right now. The matte black chrome is a very durable finish. We've been using it on coastal projects in Bermuda, Florida, Scotland, California, and Hawaii. And really you just clean it up with a little soap and hot water and put a coat of wax on every couple of months, and it'll last in coastal conditions for a long time, versus other finishes that break down quickly.
Is matte black having a moment right now?
Not only is it having a moment, just in this past year or year and a half, but we actually redid the finish about four years ago. We were seeing that between five and 10 years, the finish started failing and a lot of it was that the patina wasn't strong enough the way we were doing it. So we went back and we actually have chemists that we work with on our finishes — the patinas and electroplating. They go through and help us build this compound that gives us the most durable finish.
Within the combinations, are you seeing any trends in what people are mixing and matching?
We've seen a lot of square mesh, I think because it has a textured look with a smooth textured feel. We've seen that a lot lately with our linear collection. And our linear is just little fluted lines. People love that simple fluted look. Depending on how the light [hits it], it kind of reflects differently on the door. 
What about in terms of mixing the finishes?
We've been seeing nickels and dark finishes. I've seen polished nickel or satin nickel or pearl nickel with matte black chrome, matte black nickel, kind of in the same vein. You get that dark and light together, that's what I've seen the most. People just like that. It's a clean look. It's contemporary, but it's also warm. That dark finish warms it up a little bit.