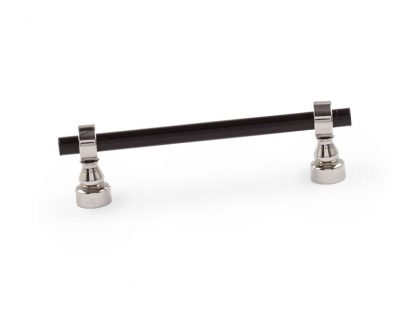 Heritage Adjustable Center Pull – 1/4″ Diameter Acrylic Rod
$35.00 – $75.00
Heritage Adjustable Center Pull – 1/4″ Diameter Acrylic Rod features a contemporary design with a solid acrylic adjustable rod.  No need to redrill holes.  The pull comes unassembled, making it perfect for someone looking for replacement hardware.  Each item is individually sand cast, or machined, by brass artisans in the United States.  Then hand polished to one of the 7 custom finish options.
PRODUCT SPECIFICATIONS
-Available in 7 different post custom finishes
-Choose from a black, white or clear acrylic rod
-Made in the USA
-Mounting hardware included
AVAILABLE ROD SIZES
3″ Rod with Adjustable Center
4″ Rod with Adjustable Center
5″ Rod with Adjustable Center
*Made-to-Order: Please allow 6 week lead time for delivery.